Cockpit Me 262
Es hat mich immer schon gestört, dass man nirgends eine Darstellung eines Cockpits der Me 262 fand, die alle Details beschreibt. Ich will nicht behaupten, dass ich das hiermit schon vollständig umgesetzt habe, aber ich denke, ich bin diesem Ziel ein gutes Stück näher gekommen. Natürlich muss man wissen, dass es nicht die eine und einzige Ausführung eines Me 262 Cockpits gab. Es gab verschiedene Grundmuster, die sich auch im Laufe der Jahre verändert haben (Verbesserungen, aber auch eine sog. Entfeinerung) und es gab natürlich auch in der Realität viele Abwandlungen, freiwillige und z.B. durch Materialmangel bedingte.
Die Darstellung der Schalttafel habe ich inzwischen (Sept. 16) berichtigt und in einem neuen Kapitel gezeigt.

Cockpit Me 262
I have always been bothered by the fact that nowhere is an illustration which describes all details of the cockpit of a Me 262. I don't want to claim that I realized this completely on this page but I think I have approached this aim to a certain degree.
Certainly one has to know that there doesn't exist the one and only layout of the Me 262 cockpit. There were different basic schemes which changed with the years (improvements but also simplification efforts) and in reality there were many modifications – voluntary ones and such which were caused by e.g. a lack of materials.
The drawing of the switch board I corrected meanwhile (Sept. 16) and I showed the drawing in a new chapter.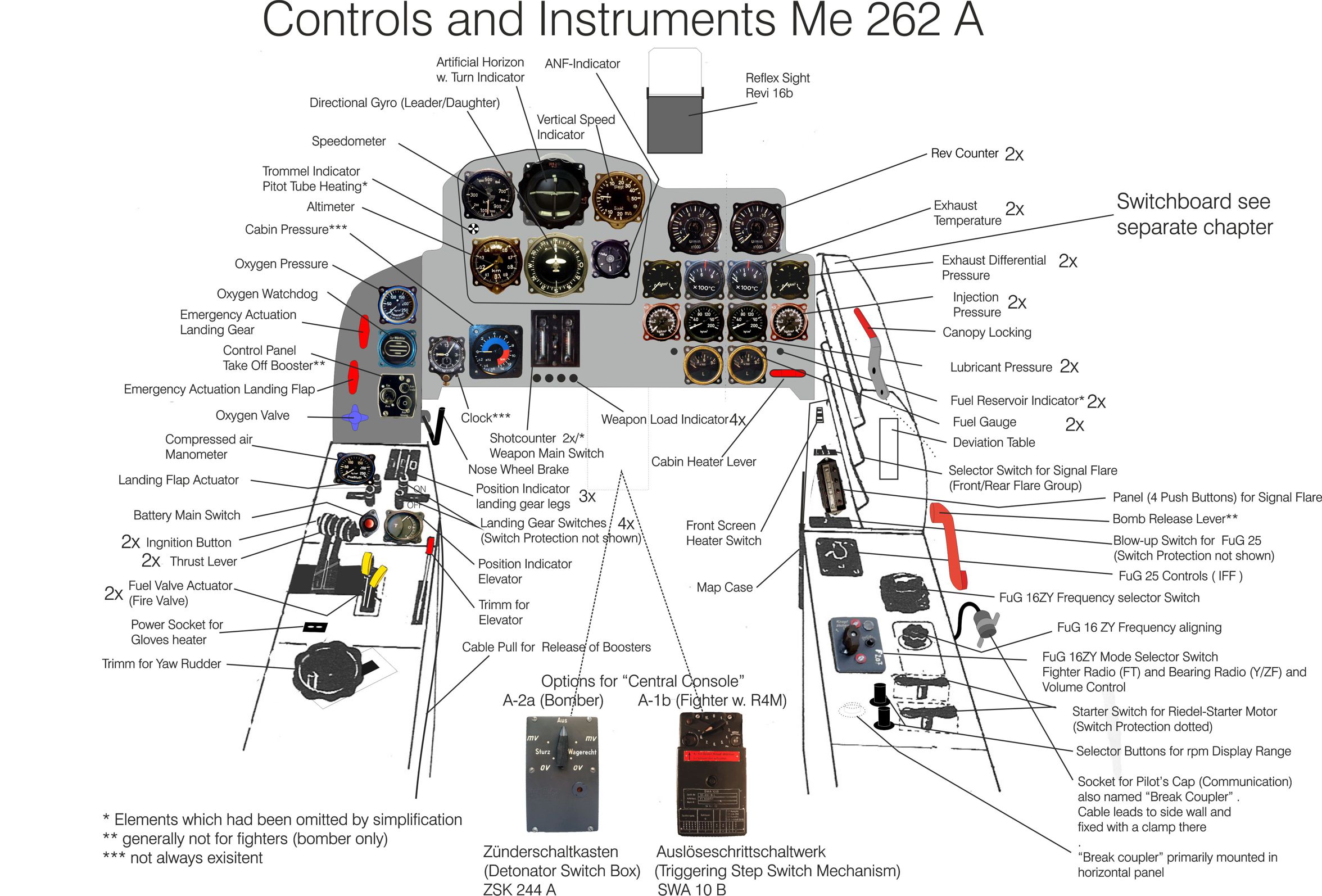 PLEASE CONTACT ME IF THERE IS THE NEED TO CHANGE AND IMPROVE MY ENGLISH WORDING.